Alrawdha Foodstuff Industry
The best products for the best customers
The main certificates we obtained
Safety is one of the key factors in Alrawdha foodstuff industry. We provide high levels of quality and safety throughout the entire production chain and even the consumption of products by consumers.
According to the general requirements for halal food
We obtained international halal certificate
No: CR/IHC/ARFSI/04/23/HC
in accordance with TÜV Middle Ease procedures
HACCP food safety certification

in accordance with TÜV Middle Ease procedures
We obtained ISO22000 certification
We got the best international awards
The best taste in the world
We are proud of our international awards that Alrawdha foodstuff industry received for the food industry from the International Taste Institute (ITI) located in Belgium, where we received high ratings from specialists in international cuisine.
 Where the International Taste Institute was established in 2005 in Brussels - Belgium, with the aim of evaluating and accrediting the taste of food products from foods and beverages. The jury is made up of more than 100 chefs and experts
taste. The Institute works in partnership with 15 professional culinary societies and institutes from around the world.
The Taste Award is known as the "Michelin Guide to the Food Industry" and is awarded by the Institute of Taste.
International of products that have received a positive evaluation by the institute's expert committee, which consists of:
professional taste experts and chefs.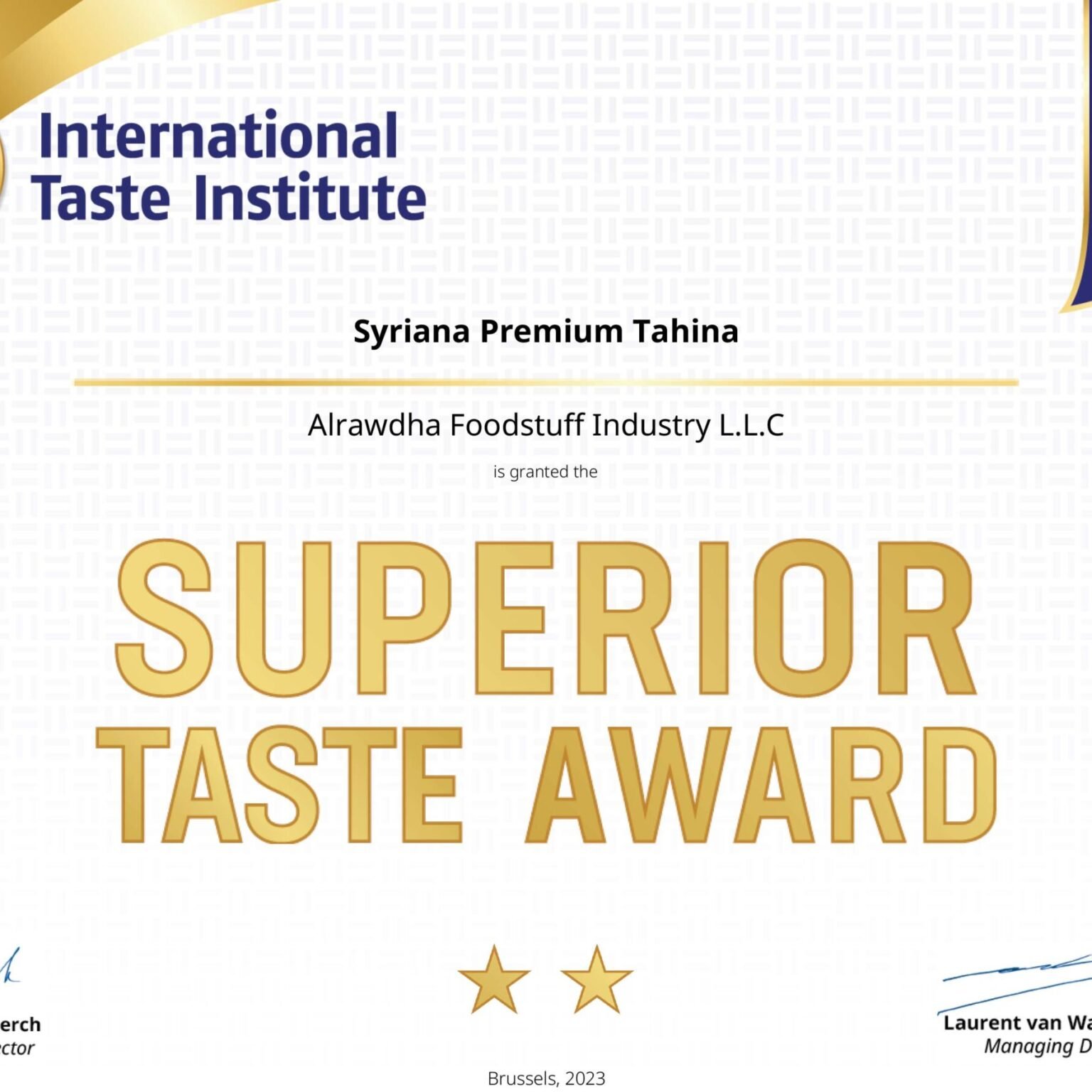 Consumer confidence in us is the result of our years of experience in the food industry
We believe that the choices we make about what we eat, where it comes from and how it is prepared have a direct and powerful impact on the health of individuals, communities and the environment.
At Alrawdha Foodstuff Industry. We aim to strategically position ourselves among the world's best food manufacturers and cater to the various needs of customers for high quality tahini.
We begin to create value for both partners and consumers of our products, and we will achieve our mission by: